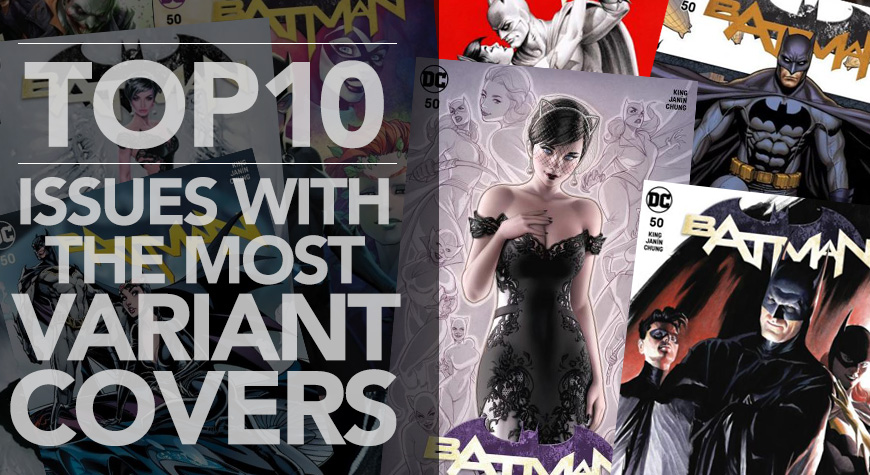 The first of two Star Wars titles on this list, Marvel's 2015 reboot of the sci-fi juggernaut spawned a slew of series for various characters, but Vader Down was the first crossover "event" of this new era. Marvel knew they had a hit on their hands (Star Wars was outselling the rest of their line) and interest was at an all-time peak with The Force Awakens breaking box office records. So why not bloat this one-shot with forty-four variant covers?

It was a major relaunch of a major comic book character by Mark Waid and Fiona Staples, an event worthy of at least a few variant covers, right? Forty-six should do ...

As obnoxious as the 2015 series was, its predecessor was two worse (or better?) … Fifty variant covers helped usher in a short-lived era for Peter Parker. This volume of The Amazing Spider-Man would only last twenty-five issues, but produce an overall 165 covers.

It's a fun, if in some cases head-scratching, concept: an Avenger to represent every U.S. state (and then some). That's fifty unique covers right off the bat, plus Canada, Puerto Rico, and the usual handful of blank covers and the like. This one's almost cheating. And how again is Tigra in Arkansas?

The insanely popular Harley Quinn was fresh off her smash film debut in The Suicide Squad when DC Comics relaunched her solo title for the third time, releasing seventy-five gorgeous variant covers. Think her inevitable next relaunch can go higher?

Luke, Leia, Han, Chewbacca, C-3PO, and R2-D2 returned to Marvel after decades at Dark Horse Comics. And they returned in a big way with eighty-four variant covers ranging from comic shop exclusives to a seventh printing, Star Wars (2015) No. 1 was the top-selling single-issue of a comic book in the past twenty years.

The first issue of Image Comic's wildly popular The Walking Dead has a bit of an odd path to its eighty-five (and counting) variant covers. Not all variant covers of the first issue of Robert Kirkman's zombie saga were released at the same time. As its popularity grew, and exploded with AMC's hit television show in 2010, the first issue was reprinted, re-issued, and given lots and lots of new covers.

Third time's the charm? After a disappointing sequel to his original masterpiece, Frank Miller returned to tell one more chapter of The Dark Knight, and seventy-nine variant covers came with it, including a 1:5,000 original art cover by Jim Lee. After just five issues, the entire series generated 146 (!) total covers.

King of The Monsters and King of the Comic Book Variants, IDW Publishing's Godzillia relaunch went nuts with 93 retailer variants alone. Your move King Kong ...

What? The single issue with the most variant covers isn't a No. 1 issue? Nope, it's oddly enough the devil's number — No. 666 of the original volume of The Amazing Spider-Man. The issue kicked of the prologue of the Spider-Island event, but was in no other way special. Still, one-hundred and forty-five different covers is a pretty tall order. How'd they do it? 141 various comic shop variants help.
comments powered by

Disqus